Welcome
Historic Rossetter House

Museum & Gardens
The Historic Rossetter House Museum & Gardens comprises the 1908 Rossetter House and Gardens, the 1892 Roesch House and the 1865 Houston Cemetery.
1320 Highland Avenue Melbourne, FL 32935
(Located in the Eau Gallie Arts District)
321-254-9855
Open:
Saturdays
11:00am -4:00pm
Closed :
Saturday June 1 and Saturday Aug 10, 2013 For Wonderful Weddings
Also
Closed for:
Our Customers Events
Major Holidays.
Please call ahead for schedule.
Handicapped Accessible Museum
Ramp for handicapped access to the Rossetter House
(except for the 2nd floor)
Gift Shop & Visitor Parlor & Restrooms
(rear breezeway, back entrance of the Roesch House)
Grounds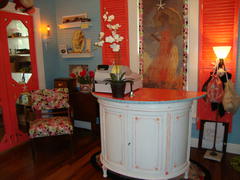 Ella's Closet
Museum Gift Shop
Charming Victorian Inspired Gifts
Open Daily during Museum hours.
Guided Historical Tours only $7.50
Tours begin on the hour at
11am - 12pm - 1pm - 2pm - 3pm;
the last tour starts at 3:00 p.m.
Our guided tours of the interior of the Rossetter House Mansion include an entertaining and informative discussion of the history of the area and the interesting people who made that history.
We supply the venue you supply the dream. All furniture, catering, service, cleanup etc to be coordinated by you.
Please call us for arrangements. 321 254 9855
For meetings and small gatherings, parties
and bridal and baby showers. (20 people max)
We supply the venue and we can also supply the tables and chairs, you supply the catering, service, linens, cleanup, etc...
(image of Starbucks Regional Meeting)
We supply the Quaint Florida Venacular Venue. We can also supply the tables and chairs. You can coordinate and supply any catering, service, linens, entertainment, decorations, snacks, beverages, cleanup, etc...
We supply the venue. Our outside gardens and lawns are your canvass. You paint the picture perfect dream wedding then live it. You can have tents, chairs, dance floors, a Dj, Drinks, and more. Your imagination is the limit of your experience at the Rossetter House Wedding Venu. Our gorgeuos outside venue may reuduce the need for or even elimate the need to pay expensive flourist for your ceremony. We have a beautiful brides room for the brides time before the ceremony and another inside room for the wedding party to gather during the arrival of the guests.
Call for Reservations! 321-254-9855 or
email : site-manager@rossetterhousemuseum.org
Roesch House, Houston Cemtery &
The Rossetter House!
Call for Reservations! 321-254-9855 or