Welcome
Historic Rossetter House

Museum & Gardens
The 1908 Rossetter House and Gardens
The 1892 Roesch House
The 1865 Houston Cemetery
1320 Highland Avenue Melbourne, FL 32935
(Located in the Eau Gallie Arts District)
Contact us: 321-254-9855 or
site-manager@rossetterhousemuseum.org
Open:
Wednesday, Thursday, Friday & Saturday
11:00am -4:00pm
We will be closed December 24th & 25th for Christmas.
Tour times
11am, 12pm, 1pm, 2pm, and 3pm*
*cut off time for last tour is 3:15
Tour times are subject to change due to events.
*There are currently no upcoming events that will impact tour times
Lawn and Gardens (Large) - Two lawns surrounded by palm trees and gardens, includes the shaded patio, and a private brides room.
Ideal for weddings and other large events of 100 guests or less.
Patio (Medium) - A shady space tucked away in the Rossetter gardens.
Perfect for medium sized gatherings and events of 30 or less guests.
Parlor (Small) - A bright, indoor, air-conditioned space for meetings and small gatherings of 20 or less guests.
Come see the spaces yourself! Schedule a free tour with us of the spaces you are interested in renting.
$8.00 per person
Tours begin on the hour at
11am - 12pm - 1pm - 2pm - 3pm;
the last tour starts at 3:00 p.m.
Our guided tours of the interior of the Rossetter House Museum, the Houston Cemetary, and the gardens include an entertaining and informative discussion of the history of the area and the interesting people who made that history.
Group tour rates available, call for details.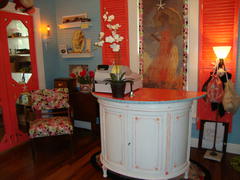 Ella's Closet Gift Shop
Gifts, local artwork, and books on Florida history. Located in the Roesch House
and open during Museum hours.

Contact us for reservations, tours, and more information!
321-254-9855