The Houston Cemetery, located half a block south of the Rossetter House, was established in 1865. Currently, there are twelve graves remaining in the cemetery.
An interesting characteristic of the Houston Cemetery is the use of initialed footstones in addition to headstones.
Initialed Footstone: J.C.H.
The Houston family were among the earliest settlers in Brevard County calling their homestead Arlington in 1859 (later renamed Eau Gallie). It is believed that John Carroll Houston had his slaves build the first structure on the property of what is now the Rossetter House. The Houston's operated a refuge and staging area for blockade runners transporting goods from the Indian River to the St. Johns River during the Civil War. Houston's son, also named John, was captured in 1864 while running the blockade.
John Carroll Houston served as a Brevard County Commissioner during Reconstruction 1864-1874. He established the second post office of Brevard County in 1871.
The Houston family served as host, and hunting and fishing guides for wealthy northern sportsmen and naturalists in the late 1860' and 1870's.
Buried in the Houston Cemetery are:
Samuel L. Houston, June 13, 1856 - Feb. 17, 1883 (Age: 26, Son of John C. and Mary V. Houston)
John Carroll Houston, July 8, 1816 - Feb. 17, 1885 (Age: 69, First Settler of Arlington/Eau Gallie)
Mary Virginia Houston, Feb. 19, 1823 - Feb. 13, 1894 (Age: 70, Wife of John Carroll Houston)
Bonnie Houston, Sept. 9, 1899 - Feb. 19, 1900 (Age: 6 Months, Daughter of George Charley Houston and Beulah Mae (Kinniard) Houston)
Maud Bertha Young, Jan. 20, 1902 - July 9, 1904 (Daughter of Charles Young & Mary Houston Young)
Susan E. Houston, Oct. 8, 1841 - July 4, 1909 (Age: 67, Daughter-in-law of John C.and Mary V. Houston. Married to John Houston)
Maudena Belle Braddock, Jan. 2, 1910 - Dec. 3, 1910 (Daughter of Braddock and Houston)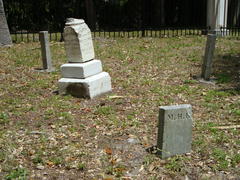 Children of William & Ada Roesch (Four buried around a single headstone):
Infant Son, April 2, 1887 - April 3, 1887
Mary H. Roesch, Dec. 22, 1885 - May 6, 1887 (Age:1 1/2 years)
Infant Daughter, Born and Died Jan. 15, 1888
Daughter, Born and Died Aug. 22, 1889
Earl Leroy Roesch, Son of Wm. R. and Ada Roesch, October 7, 1895 - Oct. 25, 1895
Conclusions from the April 2010 Ground Penetarting Radar (GPR) Survey prepared by John J Schultz, Ph.D. and Joanna Fletcher, BA. Department of Anthropolgy, University of Central Florida.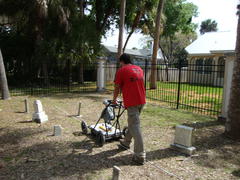 Conclusions
Eighteen anomalies were marked during the survey and sixteen addtional anomalies were detected after the data was processed.  All the anomalies were similar in depth and size to the hyperbolas created by marked graves, and appear to be located within existing rows of graves.  These anomalies may also represent  nautral subsurface features, such as tree roots.  We suspect that the anomalies located in the NE and N areas of the cemetery are most likely due to tree roots since they are located near existing trees.  There are numerous anomalies found in existing rows and we suspect that these are probably represent unmarked graves.  We would not be surprised if the anomalies represented at least 20 unmarked graves. However, there is no way to confirm this without invasive testing, such as probing, which is not a recommended option at this time.