About
A Museum is Born...
The Historic Rossetter House Museum is a project of the Florida Historical Society, Inc. and The Rossetter House Foundation, Inc. The museum comprises the 1908 James Wadsworth Rossetter House and gardens, 1901 William R. Roesch House, and the 1865 Houston Family Memorial Cemetery.
The Rossetter Family arrived in Eau Gallie in 1902; a family already deeply rooted in Florida history with connections reaching into the colonial era. Like other Florida pioneer families they had made their livelihood on the frontier from Jacksonville to the south along the St. Johns River and coastal waterways.
Eau Gallie was founded in the 1850s around a variety of agricultural ventures including sugar cane, rice, and citrus groves. By 1893 it had become the southern end of Henry Flagler's Florida East Coast Railway attracting new visitors from the north. When James Rossetter built his home on Highland Avenue in 1908, Eau Gallie with a population of about 200 people, had a hotel and thriving commercial district on the Indian River.
Raising a family of five children Rossetter became a leading merchant in the fishing industry and agent for the Standard Oil Company. Nearby the family graves of the Houston family plantation served as a reminder of the humble beginnings of the community. Across the street, long time Eau Gallie resident and neighbor William R. Roesch also raised his family, serving the community as postmaster, newspaper publisher, and mayor.
At a young age Carrie P. Rossetter took responsibility for the family home and the Standard Oil Distribution business. The oldest child at the passing of her father, in 1921, Carrie dedicated her energy to seeing her family survive with the beginning of the 1920s in Eau Gallie. Her story is one of great success against many challenges. Seventy years later, Carrie with sister Ella F. Rossetter sought to secure the preservation of their family home, family history, and legacy of the Eau Gallie area, with a bequest to make their property a historical monument.
Today the Rossetter House and surrounding properties stand as a living reminder of Florida's past and the people who made it home in the late-nineteenth and early-twentieth century. The Rossetter House is listed on the National Register of Historic Places. Guided tours are available Wednesday - Saturday with the first tour at 11 am and the last tour at 3 pm.
Caroline P. Rossetter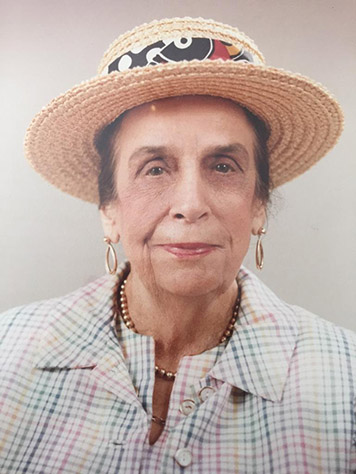 Caroline Postel Rossetter, known as Carrie, was born in Jacksonville, Florida in 1898.  Carrie's mother, Ella Maude Rogero, was born in Palatka, Florida and is descended from early Minorcan families living in and around St. Augustine. Her father, James Wadsworth Rossetter, was an agent for the Florida East Coast Railroad, and a partner in the Indian River and Lake Worth Fishing Company.
In 1904, a six year old Carrie moved with her family to Eau Gallie, Florida from Jacksonville, Florida. At this time, her father's fish company was one of the largest consumers of gasoline in Eau Gallie. For this reason, James W. Rossetter became the Standard Oil Agent for South Brevard County, and he began shipping gas via his fishing boat. During the early part of the twentieth century, many commercial fishing boats were converting to gasoline and diesel engines from sail and steam power.
James W. Rossetter passed away in 1921. Carrie, the oldest of her siblings, had been working with her father for a number of years and decided to take over her father's oil agency. At the tender age of twenty-three, Carrie had assumed the responsibilities that had rested on the shoulders of her late father. She worked hard in the first few years to keep the oil agency and to make enough commission to help support her family (mother, younger sister and three younger brothers). This was during the difficult economic period which led to the Great Depression. Carrie's younger brother, James W. Rossetter Jr., helped out during these difficult years, and the family was able to pull through along with the support of the Eau Gallie community who had respected and loved James W. Rossetter Sr., as his family did.
Carrie was the first woman to hold the position of oil agent in one of the largest companies in America, but that is not her only accomplishment in the business. She also remained in that position for 62 years. Carrie built some of the first gasoline stations in South Brevard and was the sole distributor of oil to the Banana River Naval Air Station's civilian air force during the Second World War. Carrie also continued her father's interests in the areas of both cattle and citrus.
During the later part of the twentieth century, Carrie contributed to educational institutions including the Florida Institute of Technology (FIT) and to many cultural and commmunity organizations. She was on the board of trustees at FIT from 1993 until her death in 1999. She was president of Rossetter Properties, which was dedicated to the development or real estate and promotion of the citrus, cattle, and farming industries in Brevard County through the distribution of Standard oil products. She was the director of the Sun First Bank in Melbourne from 1973-1979. Carrie was a founding member and patron of the Brevard Art Museum and a director of the Brevard Art Center and Museum. She was one of the first and longest running members of the Eau Gallie Yacht Club, and the Palm Bay and Melbourne Area Chambers of Commerce, as well as, a lifetime member of the Brevard Crippled Children's Association. Carrie was also a longtime member of the Florida Cattleman's Association and the Florida Historical Society.
Carrie had been honored by the Brevard County School District for "distinguished and valuable service to the community", and was recognized by the Chamber of Commerce as well as the City of Melbourne for over 60 years of service to the Melbourne and Eau Gallie communities. She was also cited by Chevron U.S.A (previouly Standard Oil) for her work on behalf of the company since 1921.
Carrie formed the Rossetter Foundation in the 1990s to preserve her family's homestead and to maintain its historic Florida appeal. She occupied the family home from the time the family moved to Eau Gallie in 1904 until her passing in 1999. Through her many philanthropic donations to local schools and cultural organizations, and her active role as a member of the local business scene, Carrie cemented her place in Brevard County history. She will always serve as a symbol of great success through great community sevice and superior strength when faced with diversity.
Houston Cemetery
The Houston Cemetery, located half a block south of the Rossetter House, was established in 1865. Currently, there are twelve graves remaining in the cemetery.
An interesting characteristic of the Houston Cemetery is the use of initialed footstones in addition to headstones.
Initialed Footstone: J.C.H.
The Houston family were among the earliest settlers in Brevard County calling their homestead Arlington in 1859 (later renamed Eau Gallie). It is believed that John Carroll Houston had his slaves build the first structure on the property of what is now the Rossetter House. The Houston's operated a refuge and staging area for blockade runners transporting goods from the Indian River to the St. Johns River during the Civil War. Houston's son, also named John, was captured in 1864 while running the blockade.
John Carroll Houston served as a Brevard County Commissioner during Reconstruction 1864-1874. He established the second post office of Brevard County in 1871.
The Houston family served as host, and hunting and fishing guides for wealthy northern sportsmen and naturalists in the late 1860' and 1870's.
Buried in the Houston Cemetery are:
Samuel L. Houston, June 13, 1856 - Feb. 17, 1883 (Age: 26, Son of John C. and Mary V. Houston)
John Carroll Houston, July 8, 1816 - Feb. 17, 1885 (Age: 69, First Settler of Arlington/Eau Gallie)
Mary Virginia Houston, Feb. 19, 1823 - Feb. 13, 1894 (Age: 70, Wife of John Carroll Houston)
Bonnie Houston, Sept. 9, 1899 - Feb. 19, 1900 (Age: 6 Months, Daughter of George Charley Houston and Beulah Mae (Kinniard) Houston)
Maud Bertha Young, Jan. 20, 1902 - July 9, 1904 (Daughter of Charles Young & Mary Houston Young)
Susan E. Houston, Oct. 8, 1841 - July 4, 1909 (Age: 67, Daughter-in-law of John C.and Mary V. Houston. Married to John Houston)
Maudena Belle Braddock, Jan. 2, 1910 - Dec. 3, 1910 (Daughter of Braddock and Houston)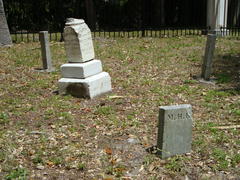 Children of William & Ada Roesch (Four buried around a single headstone):
Infant Son, April 2, 1887 - April 3, 1887
Mary H. Roesch, Dec. 22, 1885 - May 6, 1887 (Age:1 1/2 years)
Infant Daughter, Born and Died Jan. 15, 1888
Daughter, Born and Died Aug. 22, 1889
Earl Leroy Roesch, Son of Wm. R. and Ada Roesch, October 7, 1895 - Oct. 25, 1895
Conclusions from the April 2010 Ground Penetarting Radar (GPR) Survey prepared by John J Schultz, Ph.D. and Joanna Fletcher, BA. Department of Anthropolgy, University of Central Florida.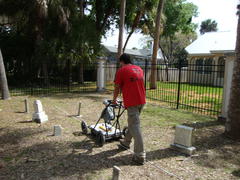 Conclusions
Eighteen anomalies were marked during the survey and sixteen addtional anomalies were detected after the data was processed.  All the anomalies were similar in depth and size to the hyperbolas created by marked graves, and appear to be located within existing rows of graves.  These anomalies may also represent  nautral subsurface features, such as tree roots.  We suspect that the anomalies located in the NE and N areas of the cemetery are most likely due to tree roots since they are located near existing trees.  There are numerous anomalies found in existing rows and we suspect that these are probably represent unmarked graves.  We would not be surprised if the anomalies represented at least 20 unmarked graves. However, there is no way to confirm this without invasive testing, such as probing, which is not a recommended option at this time.
Rossetter History
The Rossetter family, James, Ella and their daughters, Caroline and Ella, arrived in Eau Gallie, Florida in 1902. In 1904, James Wadsworth Rossetter purchased the property on which the current configuration of Rossetter House now stands. The Rossetter House is restored as it stood in 1908. The property was first settled by Eau Gallie pioneer John Houston and his family in 1859. 
James and Ella Rossetter eventually had three more children named James, Appleton, and Charles. The home stayed in the family and became the residence of only Caroline and Ella who lived there until they passed.
Before passing, Caroline and Ella Rossetter donated their family home and collection of Victorian antiques to the Rossetter House Foundation to preserve the home and contents as a monument to Eau Gallie's past. The property is owned by the Rossetter House Foundation and managed by the Florida Historical Society. 
To learn more history about this beautiful home, the Rossetter family, and the town of Eau Gallie come by for a guided tour. Times are located on the welcome page.